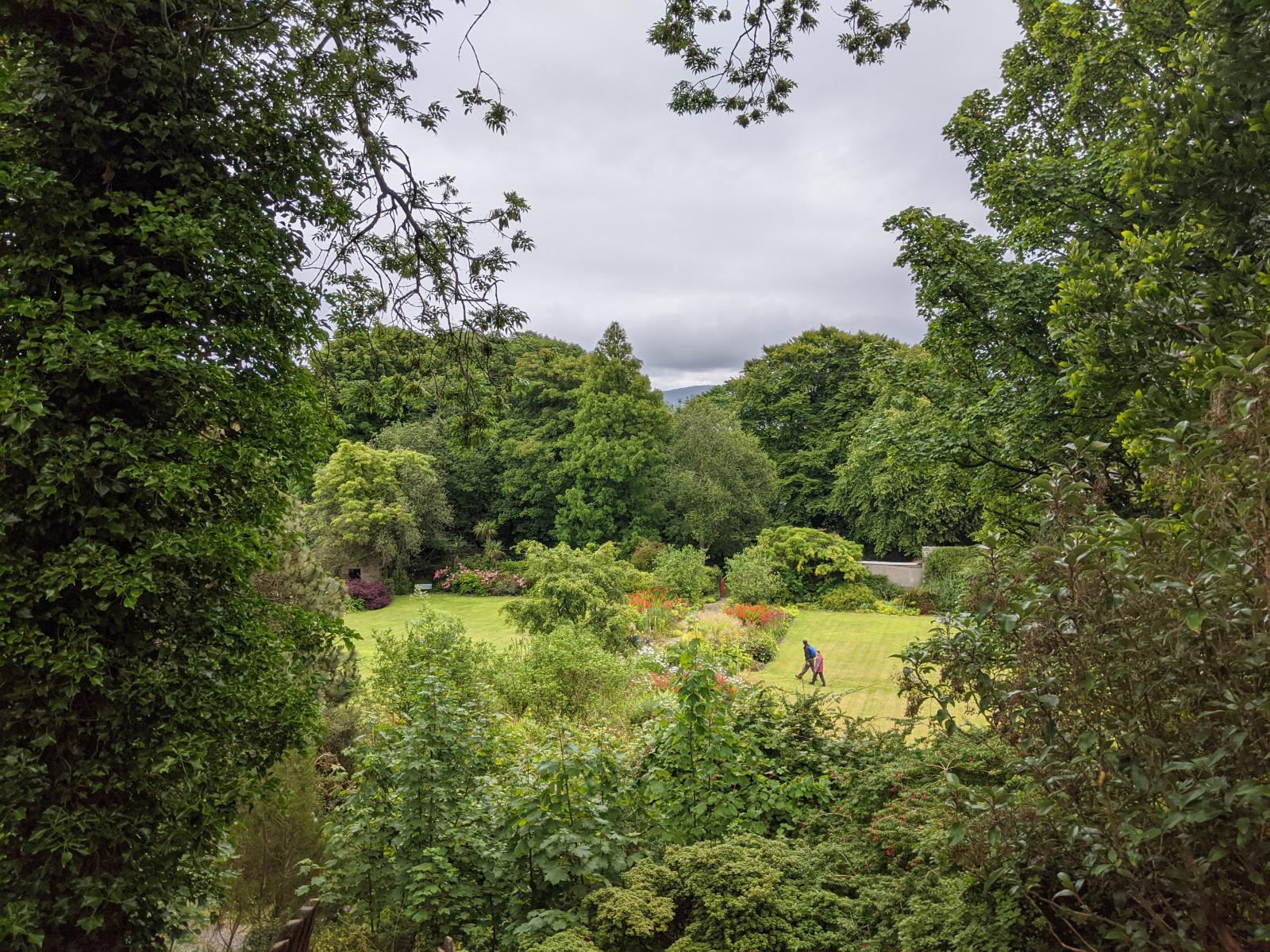 Colonel Sir James Horlick's
Achamore Gardens

Achamore GARDENS
About
Created by Colonel Sir James Horlick with the assistance of Gardener Kitty Lloyd Jones in 1944, Achamore Gardens is the home of Horlick's renowned Rhododendron and Camellia Collection. Flourishing in Gigha's warm microclimate, the 54-acre Gardens hosts many notable and unusual plants and trees from around the world.
The woodland walks with Rhododendrons, Azaleas, Camellias, New Zealand tree ferns, Hydrangeas and Fuchsias complement the walled gardens with its tender exotics, herbaceous borders and a Bamboo Maze for all to enjoy. The Garden Viewpoint has stunning exposed views over to the islands of Islay and Jura while the pond area offers a secluded oasis.
The Isle of Gigha Heritage Trust, owner of the gardens since 2002, has employed a new Head Gardener as of March 2020 and is actively working to restore and develop Achamore Gardens after years of decline.
To register your interest in volunteering at Achamore Gardens, please contact Head Gardener, Bryony White, by emailing gardens@gigha.org.uk
Please register for Gift Aid online: https://www.mygivinghub.com/
Most up-to-date information can be found on our Facebook Page - Achamore Gardens Gigha
A useful map of Achamore Gardens can be found here.
Entrance Fees
The daily entrance fee for visiting Achamore Gardens is: £7 for adults, £5 for juniors (under 16) and £20 for families (2 x adults and 2 x juniors). There is an honesty box for cash and a card reader for contactless cards only. Payment may also be made by bank transfer into bank account 00353889, Sort Code 80-05-93 or via PayPal account office@gigha.org.uk Please use 'Gardens' as the payment reference, thank you.
Please note- Achamore Gardens are open all year round, but the Gardens will close to the public during winds above 40mph for safety reasons. Updates will be posted on Facebook.
Directions
From the ferry, Achamore Gardens is a around a 20 minute walk along the main road on the island. When you come off the ferry, follow the road up over the cattle grid into the village of Ardminish. When you reach the the village shop, turn left and keep walking. You will pass the Craft Units and Gigha Hotel on your right. Keep going straight on until you see the sign for Achamore Gardens and then you have reached your destination!
Cyclists -please leave bikes at the entrance of Achamore Gardens using the bike rack provided.